Conex Bänninger: Case study
Multi language/market website
The task:
The brief was for a future proof website with a huge product database segregated by sector, type, language per market, a switch on/off option depending on the market region and good content management. The database was to be in one place for the first time and had never been collated in this way before but would be extremely valuable for the future.
The website was to also better reflect the business, it's processes, knowledge and therefore needed content generation.
The solution: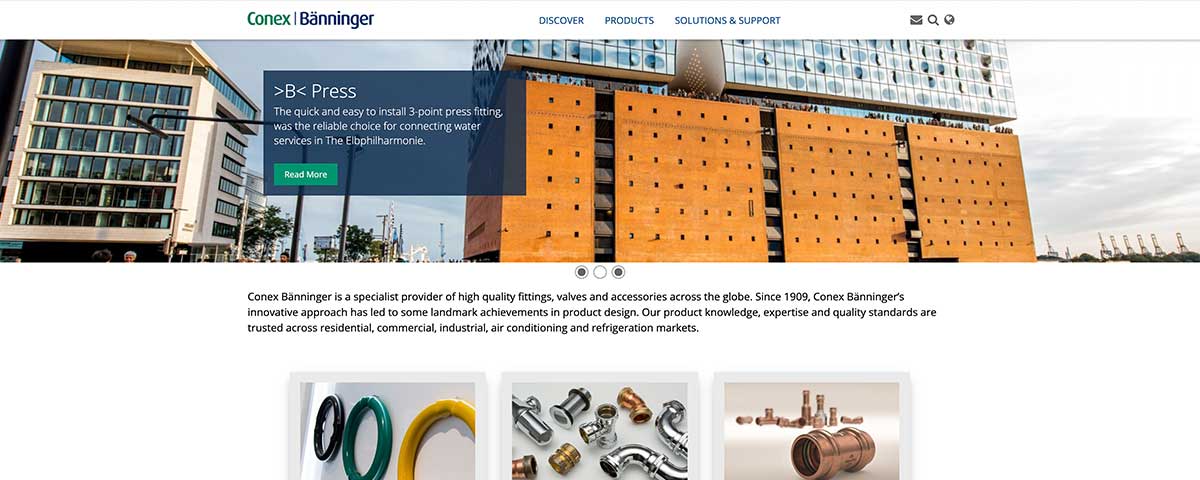 Research was conducted to identify user types and needs as well as conducting a survey with the business unit managers of each market region. Once a full-scale plan of the navigation was agreed we formulated a system for the gathering of data from all markets into one resource. A singular platform was developed to bring together multiple market/language sites with other platforms added such as online training and certification on products, an intranet and a group website.
The content management system enabled the sharing of content quickly and easily between platforms as well as the market regions. E.g. A German case study could be translated with one click and activated in the UK market site and other English language sites. Information could also be switched on in the eLearning platform and all was used as excellent sales tools to download as documents anywhere.