Sold Secure is a non-profit organisation that is dedicated to reducing the risk of crime by the assessment of security products. The scheme has close ties with the constabulary and insurers and helps to maintain up to date specifications for manufacturers and suppliers of security products by assessing them in the light of the risk they are likely to encounter when in use. https://www.soldsecure.com/
The problem:
Sold Secure run a programme of setting standards, testing and certification approval at 3 grade levels: Silver, Gold and Diamond. This involves all the accompanying paperwork for processing each individual client and their product/s as well as reports, test certificate for each grade level. This was being done on standard in-office IT and using Excel for reporting with communications via email and telephone.
During the testing phase there can be multiple tasks with the accompanying pieces of documentation e.g. Registration, checking test history, retest, up/downgrade, approvals, credit checks, finance set ups which are then integrated to the accounts and payments and issuing of certification and insurance validation.
There are then the update reminders or retesting every time a product is adapted, all of which is extremely time consuming and open to error.
The solution: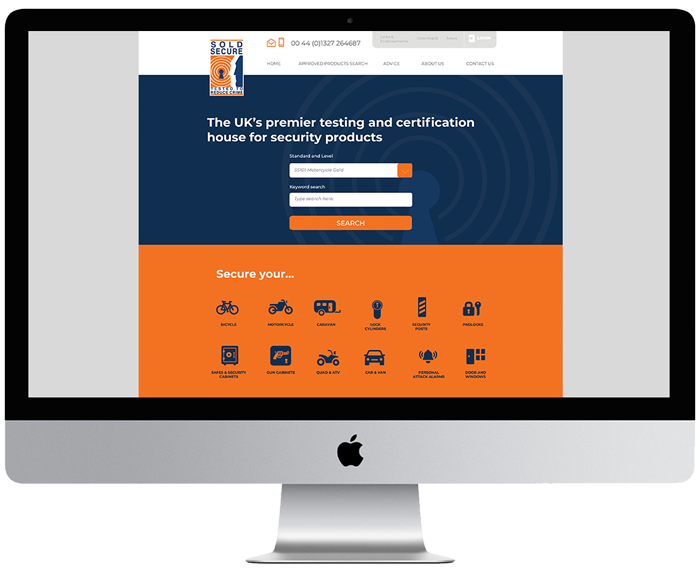 We built a front-end consumer site with a high-end, database driven CMS (content management system). The new system allows Sold Secure's clients to engage directly with them and for Sold Secure to administrate the day-to-day functions of the testing programme listed above without the manual labour time. The website is extremely well optimised for Search of products and end users can easily check certification level for each product online with their own access.
The database carries all products and grading levels and where it is in the testing cycle with all data in one secure cloud-based place and the systems allows for Sold Secure to keep client's up to date and prompt them when needed. Clients can also set up their account with banking details securely, and it will also tell end user/consumers where to obtain product after they have been referred to Sold Secure by the insurance company.
All entries are controlled by a configuration to set data entry criteria to circumvent human error, with automated reminders set up for retesting. No more emailing and relying on manual reminders, everything is tracked and traced. All data is logged, backed up and stored securely and Sold Secure no longer have to worry excessive paper trails.